The Tanks are a Punk Trio from Iowa City
and they are touring to the east coast this November...
Help fill in the gaps and/or go see them LIVE!!!
About The Tanks:
Adam Luksetich their bass player shreds punk and metal riffs
through his distortion drenched speakers while drummer Joe Ross
(Swing By Seven/Eclipse of Eden) pummels his drums into submission
with the brutality and persistence of an A.D.D. stricken youth....
all the while vocalist Kevin Koppes kicks and screams his way across
the stage with the demeanor of a clincally insane inmate....
Always an awesome and interesting live show!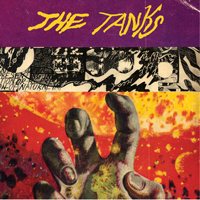 Their new album "Keep Breaking Down" is out on CD/LP
on Iowa City based label Scenester Credentials.


http://www.myspace.com/thetanks
[www.myspace.com] »



http://www.myspace.com/scenecred
[www.myspace.com] »
10/31 Iowa City, IA @The Picador
11/01 Dubuque, IA @Busted Lift
11/02 Moline, IL @Bier Stube w/Meth and Goats, Lord Green
11/03 Madison, WI ???
11/04 Beloit, WI @C-Haus
11/05 Chicago, IL @Mortville w/I Love You, Sadhu Sadhu
11/06 Milwaukee, WI @The Vault w/White Problems
11/07 Lansing, MI @Basement 414
11/08 Toledo, OH @Black Cherry w/Fangs Out, Cottonball Man, Sophia Nevada
11/09 Buffalo, NY @Nobodys Art Center w/Cinnamon Aluminum
11/10 CT/NH???
11/11 CT/NH??
11/12 Boston (Sommerville), MA @PA's Lounge
11/13 Providence, RI @The 201
11/14 NYC ???
11/15 NYC ???
11/16 NYC @Death By Audio w/Cave
11/17 Baltimore, MD @TBA??? w/Cave
11/18 Philadeplphia, PA @Danger Danger Gallery w/Most Giganticus, The Emotron
11/19 Washington D.C.???
11/20 Pittsburgh, PA ???
11/21 Cleveland, OH @Margaritaville w/Two Hand Fools, Gunnerson
11/22 Indiana??
11/23 Illinois/Missouri???
The Tanks 01/17/09 @Sioux City, IA House Show